Educating Parents about Thermos Sippy Cups as a Solution to Children's Food Safety Concerns
Aware of its products' insulating power, as well as the health dangers to children that can result from improper insulation, our team worked with Thermos to raise awareness, via targeted media placements and blogger engagement, among concerned parents regarding the risk of food borne illness and benefits of their new BPA-free sippy cup line, Foogo™ by Thermos.
The Challenge
Thermos developed a series of cutting-edge stainless steel, vacuum-insulated sippy cups for children ages six months and older that was unprecedented in its category – not only aesthetically, but scientifically as well, with each item featuring double wall vacuum insulation to keep food and beverages fresh.
Although Thermos understood the threat of foodborne illness among children as the result of improper sippy cup insulation, the company's challenge lay in properly communicating both the problem and solution to the media and parents. A legitimate issue needed credible data – a source of motivation for the media to take interest and consumers to make a change.
Research
In order to help verify the importance of proper insulation in children's sippy cups to parents, the 3rd Coast PR team commissioned a study through Cornell University's Department of Food Science and Technology. The objective of this research was to create a campaign to drive consumer awareness and education.
Ultimately, the study concluded that storing beverages in Foogo by Thermos containers significantly slowed the growth of harmful bacteria, thus greatly reducing the risk of food borne illness in children.
Strategy and Execution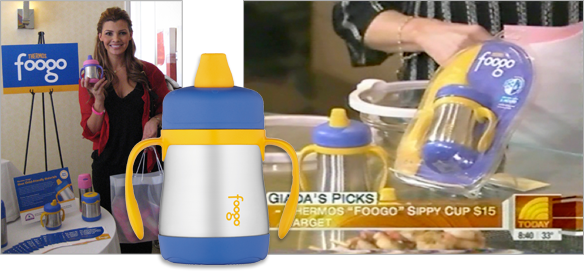 Media outreach was conducted to national print, broadcast and online parenting outlets, including the mommy blogger community. The Foogo products were publicized as one of the first BPA-free offerings in the category and positioned as a solution to an established consumer health problem, child food borne illness.