Increasing number of Facebook fans more than 1,000% in 6 months
The Challenge
Sleep Innovations came to 3rd Coast PR's social media experts with a familiar client request – help grow their Facebook community. Acquiring thousands of Facebook followers is a challenge of its own, but gaining true brand fans – and keeping them engaged in a way that is unique to the brand – is an even greater challenge that requires a thoughtful and strategic approach.
Strategy and Execution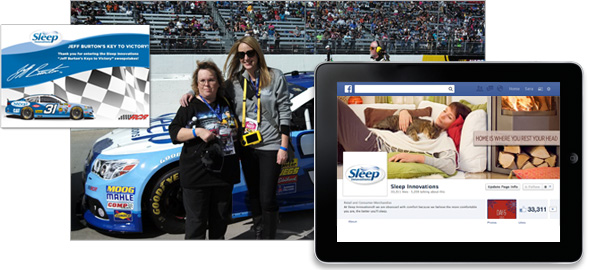 In the sleep industry, many brands claim to be the authority on what it takes to get a good night's sleep. Not only is it hard to tell many sleep brands' products apart, but their social media content and voice is usually dry and sleepy (pun intended).
Research showed that Sleep Innovations could differentiate themselves by engaging their target audience in ways that authentically conveyed the brand's fun personality. A full program of activities was developed to aid in two-way conversations with followers, provide followers with exclusive opportunities that appealed to their personal interests, and use advertising dollars strategically.
To entice new social media followers, 3rd Coast PR coordinated a unique NASCAR promotion that leveraged the sports' huge audience of die-hard fans, while still maintaining relevance to the Sleep Innovations brand. The "NASCAR Keys to Victory" promotion shared sleep tips from celebrity driver Jeff Burton and gave one lucky fan follower the chance to attend a race for a VIP meet-and-greet with Burton and the #31 Sleep Innovations car.
Post-promotion, new Facebook followers stayed with the brand thanks to engaging, conversation-style posts that spoke directly to the community's relevant lifestyle interests, regularly offered incentives and occasionally excited the community with big-ticket giveaways.