Engaging Sargento's Target Audience, While Gaining National Media Attention at South Beach Wine & Food Festival
Sargento participated in the South Beach Wine & Food Festival as a Gold Level Sponsor. The program was developed and executed by our team to support the launch of the new Sargento Artisan Blends Authentic Mexican Cheese. Our team secured a strategic partnership with James Beard Award winning chef Michelle Bernstein-Martinez, who incorporated her extensive Latin cooking background into our program.
The Challenge
Sargento was launching another shredded cheese into the dairy case, and the new blend included authentic Mexican cheeses unfamiliar to many consumers, like asadero, queso gallego and anejo enchilado. While many home cooks are familiar with the quality and great taste of Sargento cheese, it was certain they wouldn't understand how to incorporate this blend into their everyday meals – so it was critical for us to motivate trial and demonstrate usage of this new cheese blend.
Research
Around the same time of the launch, Mintel released a study showing that Americans were spending more time in their kitchens and cutting back on dining out. While more people were eating at home, they were also interested in recreating dining experiences at home. Sargento could be a part of that solution since they offer high quality products and unique cheese ingredients.
With our team's background in the food category, we understood that food lovers from across the country flock to the South Beach Wine & Food Festival every year to see cooking demonstrations from top chefs and try new dishes. We knew this would be the ideal venue to launch the new Sargento product to these early adopters of new food products and trends, since they were likely to return home to use the products themselves and spread the word about the foods they had discovered at South Beach.
Strategy and Execution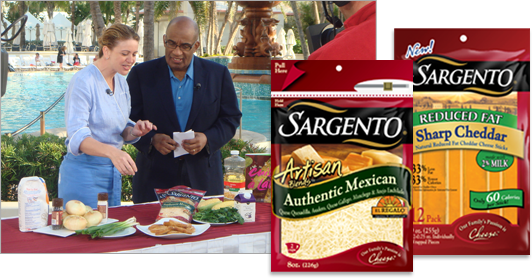 We were able to interact with food lovers and key influencers at the event by offering live cooking demonstrations by our popular Miami-based chef, Michelle Bernstein-Martinez, sampling of our chef's recipe creations featuring the new Sargento Artisan Blends Authentic Mexican Cheese Blends and providing coupons to encourage purchase of the product.
To increase the reach of the South Beach experience for those who were not at the event, we shared an insider's view via Twitter, blog and video posts, live satellite interviews with morning and noon TV news shows across the country and national media placements.