Launching LIFE Chocolate Oat Crunch, the First Cereal with a Hint of Chocolate for Adults
The Challenge
Quaker needed to generate buzz about their exciting new product offering and motivate adult consumers to try it. While chocolate has long been a satisfying dessert ingredient, it hadn't previously been considered a valid breakfast food and even had a reputation as "unhealthy". As a brand known for providing consumers with healthy choices, Quaker needed to help people understand that not only is it ok to eat chocolate for breakfast, but it is actually a good thing!
Research
At the time, chocolate was getting a lot of new attention for its health properties and surprising new uses. The 3rd Coast team knew that in order to capitalize on the momentum of the "chocolate movement" it would be necessary to find a third-party expert to validate chocolate as a breakfast option and put the preconceptions to rest.
Strategy and Execution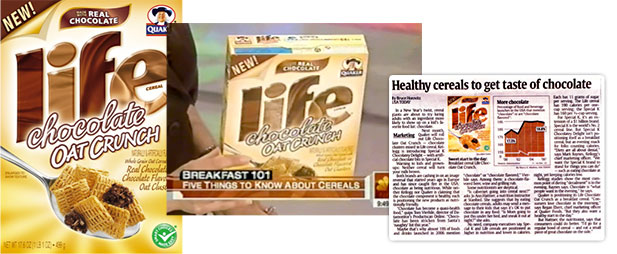 We were able to secure the nation's foremost "chocolate expert", Dr. Charles Lebel, as our voice to the media about the positive power of chocolate. Dr. Lebel's deep background in chocolate helped us craft messaging that highlighted the health benefits of chocolate and its history as a breakfast staple around the world.
With messaging in hand, the 3rd Coast PR team developed a 360-degree media plan that incorporated national and local print and television media, as well as digital media and blogs. The team kicked off the national media campaign by seeding product with editor Phil Lempert, who featured it in his USA Today column and on the TODAY Show. To reach top national women's, food, health, and beauty editors, we hosted a special breakfast event in NYC. A Valentine's Day satellite media tour (SMT) brought the story to viewers in top markets across the nation on a day when chocolate is top-of-mind, and creative mailings with product samples delivered this new cereal option to reporters at top-tier daily newspapers and encouraged positive product reviews.